From idea and implementation to impact, we provide full service grant and programme management.
Turning your ideas into great grant investments and even greater impact
Our grant and programme management service provides funders a complete package or a pick and mix of support to design, deliver, disburse, manage, monitor and evaluate funds. Using our cloud-based grants management system, we are ISO 9001 accredited, meet cyber essential requirements and are an approved grant and programme management supplier for the Crown Commercial Services and Greater London Authority (GLA). We are signed up to the London Funders principles, the IVAR Flexible Funders commitments , and working to Ubele Initiative's Booska calls to action providing fair, proportionate and inclusive grant making.
How we can help you
Co-designing your fund or programme. Working with you to produce a transparent process and accessible materials including prospectus, applicant guidance and application forms. This also involves working with stakeholders and developing appropriate governance, building on our learning of what works in good grant making, providing support for grantees and measuring what counts.
Encouraging the right applications. We support you and work in partnership with others to target potential applicants through shared networks, running promotions using social media and market warming events, and through personal and effective enquiry handling.
Providing expert analysis and professional assessments. Each assessment process is unique bringing in our own and wider expertise to make sure projects meet your requirements. We provide you with a prioritised portfolio of recommendations to inform the right grant decisions.
Awarding and processing payments efficiently. Our team can communicate decisions, manage negotiations with successful applicants, conduct confidential due diligence and manage secure payments.
On-boarding, monitoring and reporting. We work with your grantees to help them fulfil their grant obligations. This can include site visits, and capturing key data through simple online reporting forms.
Embedding learning and building a legacy. We have extensive experience of developing tools that can be used post-funding, including replicating or scaling successful models and supporting a project or organisation's sustainability beyond its grant.
---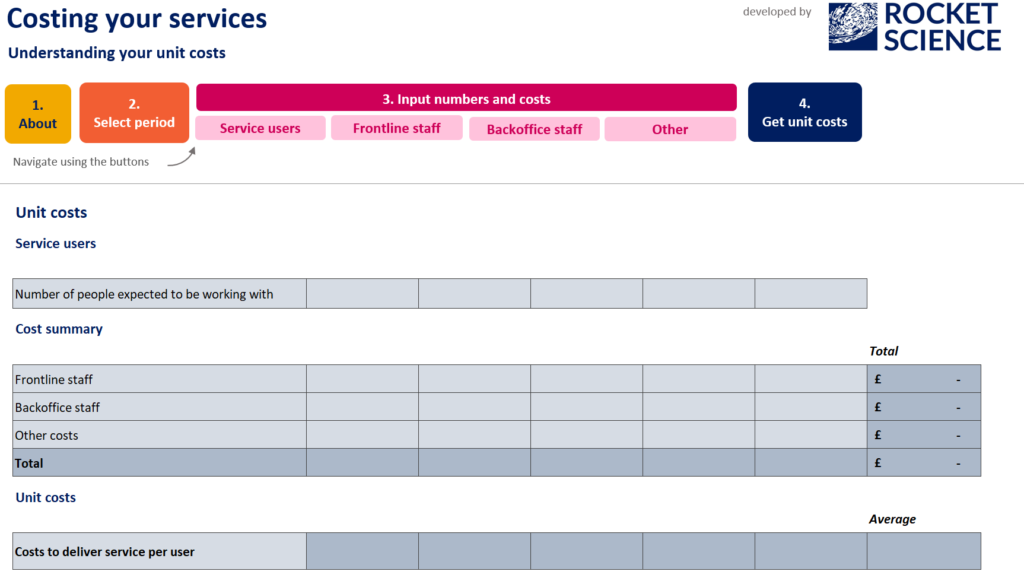 Free service costing tool
We have found that many charities do not cost their services in a way that enables full cost recovery when they are bidding for funding or contracts. We developed this free tool to support organisations applying for grants, contracts or other funding to better understand their costs of delivery.
We hope you find it helpful and check back for updates each financial year!
---
What our clients say about our Grant and Programme Management
Fund Manager, L&Q
Newcastle Fund Manager, Newcastle City Council
GLA Young Londoners Fund Grant Recipient
Director of the Violence Reduction Unit (VRU)
---
Get in touch
For more information on our work or how we can help with your next project, get in touch info@rocketsciencelab.co.uk.